Back Beach Access
March 19, 2021
Beach Access and Use Update
Beach access and use in the 30A area has changed considerably recently, creating confusion for owners and renters about beach use. Beachside Villas owners and renters have licensed private use to a nearby beach with options for chair rental and other amenities. There are other nearby options for both public and wet sand use. To help owners and renters understand their options clearly, beach access and use is summarized in our Beach Access and Use document which is available in our Library under "Articles of Incorporation, rules, and beach use."
February 11, 2021
An Excellent Summary of Beach Rights, Use, and Problems.
Dr. Ridley, Owner at Beachside Villas

Mr. Ridley says, "We have owned our unit for eight years, and have visited the area for almost 30 years." We never had problems with use of the beach until HB 631 was hatched. Visitors come to the beach for beach activities, dining and shopping, and beach use is the primary activity. Denial of or restrictions based on use of the beach will damage the economy of the area with fewer renters. We have watched restriction of common usage of the beach shrink gradually, and are now being asked to further sacrifice rights to the beach by making various arrangements to visit only small unrestricted portions of it. This denial of convenient use of the beach from dawn until dusk is an attempt by owners of large beachfront homes to intimate that they 'own the beach.' However, this has never been the law.
According to Florida law, public trust doctrine, unless dry sand is already owned for public use, private beachfront property extends (only) to the Mean High Tide Line (MHTL). Also, customary use extends to dry sand. This is found in Article X, Section 11 of the FL Constitution. The state holds the land seaward of the MHTL.
Use of the 'wet sands' is expanded to embrace recreational uses. Bathing/swimming has not been challenged except by landowners who don't understand the term Mean High Tide Line. One nearby landowner arbitrarily changed the MHTL by the hour as the tide encroached and then receded, having guards to enforce his knuckle-headed assumption. I doubt he is familiar with basic math or economic principles.
As we know, HB 631 destroyed the concept of customary use giving homeowners the right to challenge beachgoers for trespassing on dry land behind their homes. They are now using this as a means of preventing access to the beaches. The governor tried to walk back the controversial bill, still used by bull-headed property owners who would suffer no ill effects from sunbathers and children playing in the sand. I do understand that mere repeal of HB 631 would not 'fix' the problems. We need a new, comprehensive law.
Easement predates written history as a right. Humans have been traversing beaches of Florida since before recorded history. Specifically, the 'bridge' adjacent to Sugar Dunes has been used as an entry/exit point for many years. Easement from continued use even when land is privately owned would supersede laws allowing personal prohibition against using easement as a means of ingress/egress with no questions.
January 26, 2021
Beach Chair Vendors Restricted by Walton County Commissioners
REPRINT FROM : Northwest Florida Daily News
Walton commission: Beach vendors on residential property are not authorized
Jim Thompson
Northwest Florida Daily News
SANTA ROSA BEACH
Walton County commissioners took action this week that begins addressing a flash point for neighborhoods along the county's beaches — the vending of beach amenities to the public in residential areas near those beaches. With a 3-2 vote Tuesday — Commissioners Tony Anderson and Trey Nick dissented, with Commissioners Danny Glidewell, Mike Barker and William McCormick in favor — the commission decided to add language to county-issued vendor permits that would clearly note that vending to the public on residentially zoned property is not authorized, and could expose the vendor to legal proceedings.
The commission vote also set in motion the possibility that the county could amend its land development code, if needed, to "effectively curtail" vending to the public from private residential property. In connection with that aspect of Tuesday's vote, Commissioner Danny Glidewell noted a need to ensure that the land development code clearly describes beach vending as a business. The issue of renting beach chairs, umbrellas, kayaks and other amenities to the public from residential areas has been a hotly simmering topic for at least the past few years. Much of the consternation has been focused on 210 Winston Lane in the Inlet Beach community, from which beach vending has been conducted for some time.
"This has to get voted on today. This can has been kicked down the road for way too long," Mike Scher of the Inlet Beach Neighborhood Association told commissioners during a lengthy hearing on a host of proposed changes to the county's beach activities ordinance.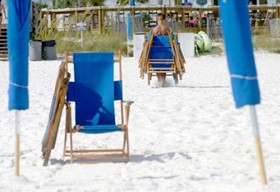 Before the commission vote, Scher called the proposal to include the warning language on vendor permits a "brilliant" and "elegant" solution.
A number of other beachside property owners also spoke out for quick action on the measure to notify beach vending permit holders of the possibility of legal jeopardy for operating businesses out of residential properties. "Residential is residential," said a property owner who joined the meeting via the Zoom teleconferencing tool. Nobody living on the beachfront, she said, "signed on to have a business run on property next to them or behind them."
On the other side of the issue, commissioners heard Tuesday from Phillip Poundstone, president of the South Walton Beach Vendors Association. Poundstone, who has been associated with the vending operation at 210 Winston Lane, argued that residentially based vending has helped ease crowding at beach access points.
This is about tourism," Poundstone argued, contending that providing wider access to beach amenities improved the vacation experience of people visiting the county. That access is critical, Poundstone hinted, to meet what he called a "crazy (level of) tourist demand" for beach amenities.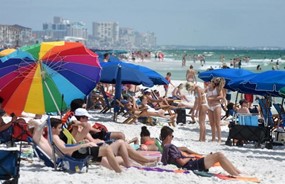 That point was among the reasons for Anderson's dissenting vote. During Tuesday's discussion, he said having residentially based vending "allows us to have more people on the beach," who will, in turn, shop and dine across the beach areas of south Walton County.
Before the commission vote, Anderson suggested that the issue be tabled until the county's planning director, code compliance director and attorney could meet individually with commissioners to discuss it. "We need to look at this a lot more closely than we are today before we vote on it," Anderson insisted. "This is a situation that could absolutely destroy tourism down here," Anderson continued, pointing out that a number of rental companies have agreements with vacation rental home owners to provide beach amenities to those accommodations.
Other commissioners, however, differentiated that situation from actual vending to the public from residential areas. In the instances described by Anderson, other commissioners pointed out, vendors are simply providing beach amenities to visitors, and are not running vending businesses out of those locations.
And there were hints Tuesday that some residential beach vending might be, in fact, missed by county code enforcement officials. In Walton County, Glidewell noted, code enforcement is generally reactive more than proactive. Addressing Poundstone, Glidewell noted that 210 Winston Lane got on the county's radar as a result of public complaints.
"If I got one email (about 210 Winston Lane), I got a thousand," Glidewell said, telling Poundstone that if he had wanted to operate the business out of the residence, he needed "to get along with your neighbors." But Glidewell also made clear his position that "you can't run a business on residential property." If that was the case, Glidewell said, he would want his constituents in the northern end of the county to have the same option. "You can't tell those people (in the northern end of the county) they have to abide by the rules, but you don't because you're beachfront," Glidewell told Poundstone. "That don't work."
July 6, 2020
Information About Beach Usage
As you each are aware, Beachside Villas does not have deeded access to the beach and has historically relied upon Customary and Ordinary Use (public usage of beaches) as have all other non-beach landowners, tenants of condominiums etc. that are not on the beach. Several years ago the then governor (Gov. Scott) of Florida issued an order permitting deeded beach front property to be the domain of deeded beach front property owners which permitted exclusion from use under accepted (and long standing interpretation) of Customary and Ordinary Use. Some of the homeowners who had deeded beach frontage filed a lawsuit to make their beach property private from beach goers that include all of us at Beachside Villas.
This is an ongoing challenge and at present Walton County has a litigation suit in the courts to allow our beaches to go back to Customary and Ordinary Use (Public Usage of beaches). It is in appeal and a decision is expected within a Walton County Court (presided by Judge Green). He will be making the decision of going back to "Customary and Ordinary Use" or uphold the current law of the private beach property. We expected this to be resolved by the middle of June but recent events (COVID 19, etc.) have pushed this back. Our beaches have been enjoyed by the public forever so we hope soon it will be ordered to allow the public on all our beaches again.
January 13, 2020
Potential Beach Access Legislation
---
---
---